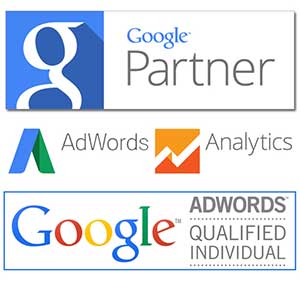 Effective paid search management depends on successful campaign development and creation as well as ongoing campaign management and optimization.
1. Successful PPC Campaign Development and Creation
Anyone can create a PPC campaign, but creating one that will deliver profitable results requires a great deal of research and analysis. We structure your campaigns so they will attract the right customers and we develop and maintain campaigns that are both SMART and COST-EFFECTIVE.
We will design and implement your pay-per-click campaigns from start to finish. We'll begin with Google AdWords, and then expand to the Bing/Yahoo network.
Campaign development services include :
An analysis of your organization's goals (lead generation, e-commerce sales, traffic growth, or brand development).
Economic analysis (budget, profit margin, competitive analysis, traffic estimates, and most importantly – What can we afford to pay per click?).
Establishment of Google and Microsoft accounts, in your name, to be professionally managed by Harper Media.
Keyword analysis and development (thousands of keywords – possibly tens of thousands – NOT just a handful). We focus on effective keyword targeting. We find the keywords that can help your advertisement thrive without having to spend too much of your budget. By looking at the competition and other factors, we make sure you're reaching your full potential.
Writing engaging ads and creation of ad copy. One of the most important aspects of launching a successful campaign comes down to how your ads are written. We write ads that attract potential customers, and also encourage them to purchase. Many versions of ad copy will be created, by keyword category / theme, and continuously improved through active split-testing for all campaigns.
Landing page selection. When creating a PPC ad, choosing your landing pages is very important. We will help make sure that when someone clicks on your ad they are sent to a landing page with a great call to action that will give them the best chance of converting.
Keyword conversion tracking codes will be installed on your website (so we know what traffic sources, campaigns, and keywords convert).
2. On-Going PPC Campaign Management and Optimization
We continuously optimize your campaigns so that they reach new heights, delivering the best customers at a great ROI.
Solid testing of ads. Our team continuously monitors the effectiveness of the ads to ensure they are running at peak efficiency. We are always looking to raise the bar by A/B testing multiple ads.
Reacting to user trends. User trends can help us determine how the ad might need to change in order to be successful. We follow these trends to see where the clicks are happening and how your ad can be revised to take advantage.
Keyword performance monitoring. You want to make sure your budget is being used wisely. We create ROI goals and alter bids accordingly based on the keywords that are driving the best conversions.
Why work with us? Our technical knowledge of the Google AdWords and Microsoft advertising systems is becoming the most important reason to partner with Harper Media. The tools are very powerful, but also very complex. New features and advertising policies are added or changed almost every week. It is a full-time job just keeping up-to-date and determining how to apply this knowledge to the campaigns. The introduction of Google Call Tracking, Google Remarketing, and major enhancements to the Google Display Network have completely changed how we design and manage our campaigns. Meanwhile, Microsoft Advertising, which is comprised of both Bing and Yahoo, is continuing to improve their offerings to keep up with Google.